Black History Month at The John Fisher School, Purley
16th March 2021
The John Fisher School, Purley began a celebration year for its 90th year of foundation in September 2019. The arrival of Covid-19 "put a spanner in the works" and plans were either put on hold, cancelled or delayed. Despite the setbacks the following was completed. A new School Prayer Book, a booklet on our Patron Saints containing artwork by Year 13, our history and our Founder Archbishop Peter Amigo. We also created a Wellbeing and Spirituality Garden, and commissioned a new Icon of African Saints for our chapel.
The large chapel already contains many statues and images of saints but, the school chaplain Fr James Clark discussed with the Spiritual Life and Ethos Committee the need to reflect the growing rich diversity of its students and staff. A former student and artist, Ricardo Insua-Cao was commissioned to create a new painting showing St Charles Lwanga of Uganda and St Josephine Bakhita of Sudan.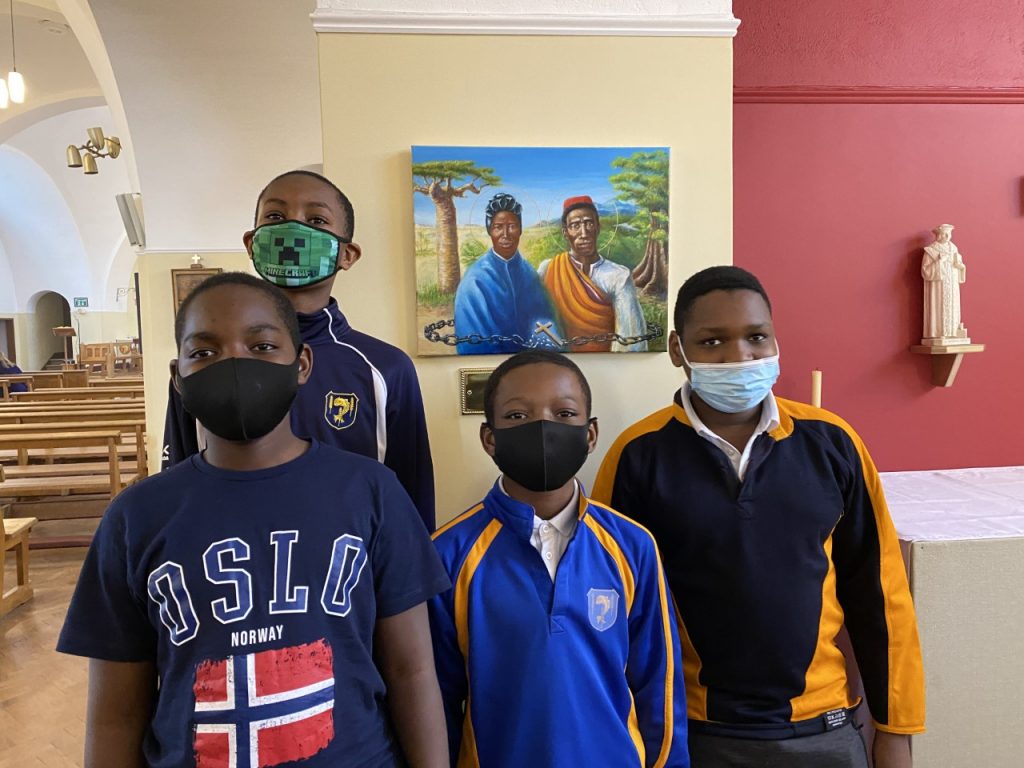 The painting captures so many clever details such as the cross breaking the chains of slavery around St Josephine, and the style of clothing worn by St Charles is from his local village. The two large trees in the background are of those found in their native homelands. The painting was finished in plenty of time for the start of October's Black History Month.
The History Dept. put together a "global black history" PowerPoint to be shown in tutor time throughout October. There were six in total, each showing an important, yet relatively, lesser-known item of Black History from each continent. This started with an introduction based on a poem by Samuel King called "What I wasn't taught at School". The remaining sections were:
· Black History from the Americas – the story of the Haitian Revolution and Toussaint Louverture
· Black History from Europe – Septimius Severus; Rome's Black Emperor
· Black History from Africa – Mansa Musa; the Richest Man in History
· Black History from Asia – Yasuke; the First Black Samurai
· Black History from Oceania – Australia Day; the Uncomfortable Date for Australia's Aboriginal and Torres Strait Islanders.