Fundraising at Corpus Christi
18th April 2023
Every year the children choose which charity they want to fundraise for during Lent. This year they chose the homeless charity 'The Passage.' The children then decided how they wanted to fundraise in their year groups.
We had a range of activities such as bunny hops, chicken runs, Easter egg raffles and even a pyjama day!  We had a speaker from 'The Passage' to speak to us about their mission and how the charity supports the homeless. Our school chaplains were inspired by the talk and wanted to get a little glimpse of what it is like to be homeless. They sat on the pavement at the school gates collecting money. They were then able to discuss how it made them feel so small and how unfair it was. The chaplains had found quotes from the Bible that encourage us to help our brothers and sisters in need.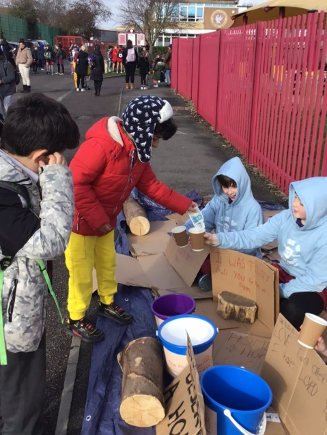 Our Year 5 and 6 children took part in a 'Sleep Out Project' in school. This involved sleeping on the hard hall floor overnight at school. They listened to the 'Emmaus story' and were paired up with a stranger with the hope to find a friend at the end of it. They also got involved in activities where they had to work with others and put their trust in others. This coincided with the message given by 'The Passage' where they try and build up trust and relationships with those who are homeless.