Football Mad Author Visits St Peter & St Paul Catholic Primary Academy
18th July 2023
Key Stage 2 children were enthralled and entertained by the author of the Alfie Jones and Galactic Towers series of books, David Fuller.
This morning, David Fuller gave an inspirational talk to the children in years 3-6 at St Peter and St Paul Catholic Primary. David focused on his experiences as an author and the process that he followed in the creation of his books. Writing from his passion of football and relating his stories and characters to his own experiences and things that the children could relate to had them engaged in a vibrant discussion about what is actually involved in writing a book.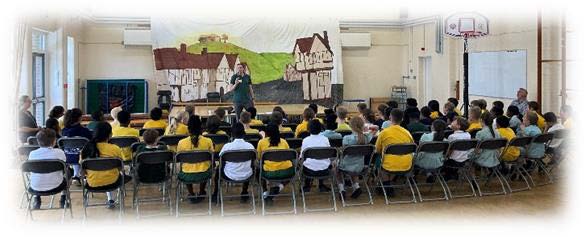 One of the teachers commented, "I thought it was good. The children were really into it and asked some great questions." Two children in Year 6 stated that they liked the fact that, "He spoke about things we can relate to, like how he hates editing."
The children were able to quiz David and have all of their questions answered, coming away with a new perspective on writing.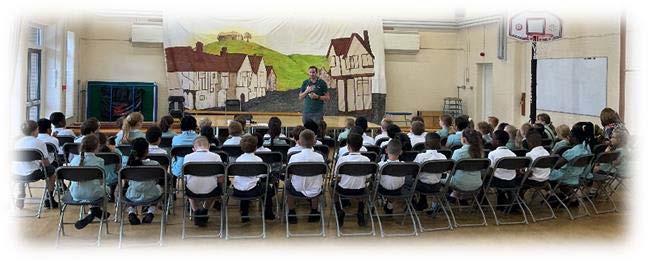 Events like this are crucial to increase children's cultural capital. To see where writing can take them and be inspired. It is also extremely valuable for them to see and hear that there are challenges to overcome for everyone, even if these challenges look different, but through resilience and perseverance they can succeed at whatever the turn their mind to.
For more information contact: admin@stpstp.co.uk
For more information on David Fuller, see www.alfie-jones.co.uk